Kellogg's Family Rewards™ is a fun and easy way to earn rewards from the brands you already enjoy and love.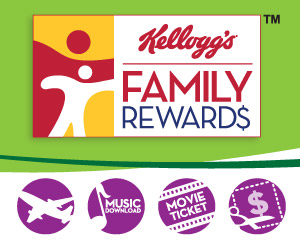 enter 2013KFRBonusCode
Points: 50
How does it work?
1) Look for 16-digit codes printed inside specially marked Kellogg's® cereals, Eggo® products, Pop-Tarts® toaster pastries, Cheez-It® crackers and Keebler® cookies and crackers.
2) Enter codes and earn points at KelloggsFamilyRewards.com. If you're not a Kellogg's Family Rewards™ member, it's free and easy to sign up.
3) Collect and redeem points for fun items in our rewards catalog.
And to sweeten the deal – Each time you enter a code, you'll automatically be entered for a chance to win $200 in free groceries from Kellogg. One winner is selected daily.*
What's in the Rewards Catalog?
From children's books and digital downloads to sporting equipment and sweepstakes entries, there's something for everyone in the Rewards Catalog:
• Coupons, Discounts and Gift Cards
• Sweepstakes and Instant Wins
• Books, Music and Magazines
• Electronics, Toys and Games
• Housewares and Kitchen Gadgets
• Apparel and Gear
• Donations and Charity Support (Beginning April 2013)
How do I earn extra points?
Bonus points are a fun way to earn rewards faster. Kellogg's Family Rewards™ members can enter special bonus codes and participate in promotions that allow them to earn
additional points or rewards for entering codes from Kellogg's® products.
Bonus Codes: Answering polls or questions within Kellogg's Family Rewards™ emails or performing special actions (such as liking certain Facebook pages or commenting on recipes)
are examples of ways to earn bonus codes. But hurry – bonus codes are valid for a limited time and have varying expiration dates.
TO GET STARTED: Members who've read the "How It Works" page will discover this free bonus code HOWITWORKS20PNTS.
Promotions and Bonus Points: The Kellogg's Family Rewards™ program supports many other Kellogg code-based programs and promotions, allowing consumers additional ways to earn
rewards or points for purchasing special products.
What are some other benefits?
• SAVINGS! Kellogg's Family Rewards™ members receive weekly emails with coupons, product news and promotion updates. Members can also log in at KelloggsFamilyRewards.com and print exclusive coupons for Kellogg's® products and other brands/goods at any time.
• Promotions: Members are the first to know about promotions and sweepstakes. Here are some great promotions happening now:
o Earn a free Shape magazine subscription with Special K®
o Get a collector's wristband & share breakfast with kids in need h
o Kellogg's™ Share Your Breakfast Coupon Savings
• Recipes: Find delicious new ways to serve up family-favorite products.