Nothing brings such wonder and excitement for children during Christmas than Santa Claus does.  Now you can catch Santa in the act in your home and create a keepsake to surprise your children.  iCaughtSanta.com is a great website that started 6 years ago when it's creator wanted to surprise his children with a picture of Santa Claus caught in the act in his living room. Imagine the look of wonder and surprise when a child receives a photo of Santa caught in the act in his or her very own home.  iCaughtSanta.com is a unique website that helps visitors create those memorable keepsake photos.
It is so easy to create a memorable keepsake on iCaughtSanta.com.  Simply upload a picture of the location you would like to put Santa.  Do you want Santa by the Christmas tree?  Coming down the chimney?  Eating milk and cookies? Sleeping on YOUR sofa? Stealing a kiss from Mommy?  Anyone can bring back the wonder of Christmas and be a hero to children by catching Santa "in the act."  Once you upload your location picture to iCaughtSanta.com simply choose which Santa pose you want to add to your picture, edit your picture, and you're done.  It only takes a few minutes start to finish but the memories will last a lifetime.
 Do you send Christmas cards/eCards?  Now you can add Santa to make a unique Christmas card.  Add him to a family photo or add him and Rudolph on the front lawn in the snow.  Be creative and use your imagination.  Make it funny or festive!  You can even use the picture to create a pin, a magnet, an ornament, t-shirt, or any other item you can add a picture to.
iCaughtSanta.com giving away an iPad Air and a choice of gift cards from Amazon, Visa, and Starbucks.  Anyone can help spread the word and enter to win one of multiple prizes for a combined prize package value of over $1500. No purchase necessary.
Enter online here: http://www.iCaughtSanta.com
Want to create your own iCaughtSanta.com keepsake?
Use the code SantaSave25 to get 25% off your order.
You can also purchase this Groupon for $10 to get a Santa Photo Package with 4 Custom Images and One Video from iCaughterSanta.com ($24.98 value)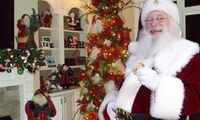 $10 for a Santa Photo Package with Four Custom Images and One Video from iCaughtSanta.com ($24.98 Value)
Don't celebrate Christmas?  iCaughtSanta.com is part of catchacharacter.com where you can also create pictures with the Tooth Fairy, Easter Bunny, and Cupid.  We don't celebrate Christmas but I created pictures of my girls with the Tooth Fairy several years ago on catchacharacter.com and they were amazed that I had proof of the Tooth Fairy.
The Groupon is good on any of the sites so you can still purchase it if you want to use it for the Tooth Fairy photo, etc.  I am giving away 9 codes to create your own iCaughtSanta.com photo keepsake but they can also be used to create photos with any of the characters.
Want to win your own photo keepsake?
Here's what you need to do to ENTER –
First of all – you must follow my blog – The giveaways I host are for my wonderful readers. To be considered a Cori's Cozy Corner reader, you must receive my once daily email.  This is not considered an entry, but rather a requirement in order to enter any of my giveaways.  🙂
I do verify that you subscribe to my e-mail at the time of the winner drawing.  You can sign up for my once daily email easily by entering your e-mail address right here:

Once you are a Cori's Cozy Corner reader via email you can continue onto the Entry Form Below.  Good luck!