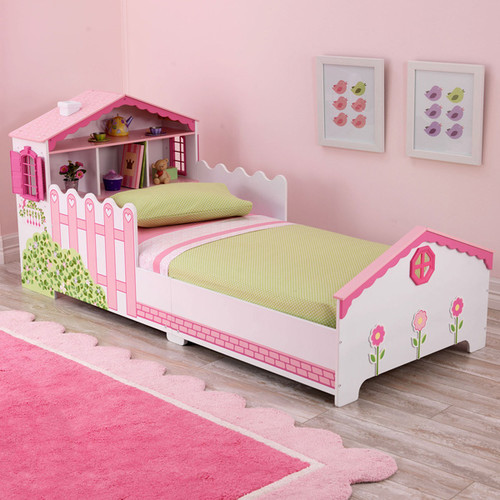 Your child's first bed is a big milestone. We all want to protect and nurture our kids and keep them safe where we can see them. When the time comes for them to move into their very own room and start being a little more independent, it is an exciting but scary time.
It's not just the kids who might be a little apprehensive about moving into a new room. We parents are probably even worse at coping! When our children were babies, they stayed by our sides in a crib, before having a safe and secure cot in their nursery. It seems like such a daunting step to see them climbing their way up to a big bed for the first time.
There are ways to make the process run smoothly though. Try to stay positive about the move and celebrate the fact that this is an exciting new time. If your child sees that you are positive, they will react better. You can make your child's bedroom cosy and comfortable for them. This will help build their excitement about their new big bed. Give the room a freshen up with a lick of paint and some cute accessories.
Choosing the perfect first bed for your child is the most important task. You want a bed that is going to be comfortable and supportive for your child.
A memory foam mattress makes a good first bed idea. I love the fact that they perfectly moulds to our sleeping child's body and create a soft and sleepy cocoon. Use plenty of soft bedding. It is worth investing in quality material that is going to be hardwearing and kind to the skin. No-one wants scratchy, cheap bedding on their first bed!
You can buy a bed with storage underneath and show your little ones how fun it is that they can keep clothes, toys or games underneath it. If your child is a little bit more daring, then you could go for the fun but adventurous option of a low-level cabin bed with a cute mini ladder.
A few more important things to buy:
Fluffy rugs and brightly coloured furniture are a great starting point.
Wardrobes and chest of drawers that can be secured to the walls. This will prevent any accidents. Remember that your child will now be able to get themselves out of bed in the mornings. They also occasionally get up in the night!
Night lights are brilliant for a child who is afraid of the dark, or who gets up really early when the room is still dark.
Soft toys and books are a must-have for any child's bedroom. Kids just want to have all of their favorite things around them, so the stuff we might see as clutter, will be their best-loved items.
Items to create a reading nook are also simplistic and fun. Throws, cushions and toys all make a great play space and reading area.
Have fun planning your child's first bed and their brand new 'big kids' room! You can go completely overboard and spend lots of money on the design, but most of the that kids love are inexpensive and easy to get hold of.