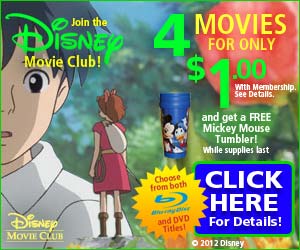 4 Disney Movies For $1 PLUS FREE Tumbler and FREE Shipping!!!
This is such a great offer for any Disney fan.  And who isn't a Disney fan?!?!  My girls love watching Disney movies and I enjoy watching them, too.
Right now you can get 4 Disney Movies for only $1!  Shipping is FREE and you will also receive a FREE Disney tumbler with your order!  These will make a great holiday gift or stocking stuffer.  You can choose from both DVDs and Blu-rays!
You will need to purchase 5 more Disney movies over the next 2 years.  That is the only obligation but you can buy them when it is convenient for you.  You do not have to buy them all at once.  Getting 4 movies for $1 really helps you save on your future purchases.
Photo Credit: The Real Frugal Diva's.
***As a Disney Movie Club member, all you need to do is buy 5 movies at regular Club prices in the next 24 months (starting at $19.95 per DVD and $29.95 per Blu-ray), plus shipping and processing of $3.95 for the first title in each order, and $1.49 for each additional title in that same order. You may cancel your membership at any time after purchasing the 5 movies.
By agreeing to purchase at least 5 regular-priced movies in the next 24 months, you qualify to receive 4 Disney movies of your choice from the list of titles currently available from the Disney Movie Club for $1.00 total. Shipping and processing is free. Please allow 2-4 weeks to receive your first shipment.***